Toughening mechanism of zirconia toughened alumina ceramics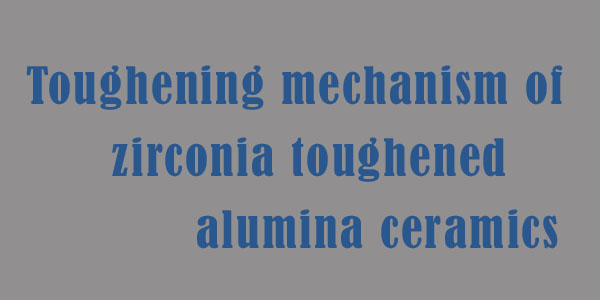 Zirconia toughening alumina ceramics also called ZTA ceramics , is produced by adding to or being into the ceramic particles, whiskers, fibers and other reinforcing materials, so that the toughness of the ceramic greatly improved, but also have some strength and modulus increased. At present most applied toughening method is by adding zirconia . The toughening of zirconia-toughened alumina ceramics incorporates a number of toughening mechanisms:
(1) Phase change toughening: the use of tetragonal ZrO2 martensitic transformation to change the toughness of ceramic materials. When the ceramic is subjected to external stress, the tetragonal phase particles will transform into allotrope monoclinic ZrO2, meanwhile, the volumetric expansion will be 3% -5%, absorbing the strain energy and bridging the crack, so as to improve the fracture toughness of the material;
(2) Micro-crack toughening: When ZrO2 is transformed from tetragonal phase to monoclinic phase, the micro-cracks caused by volume expansion will disperse the energy of the main crack tip in the matrix and lead to the distortion and bifurcation of the main crack propagation path , Thereby increasing the fracture energy, causing increased fracture toughness of ceramics;
Beside abrasion resistant alumina ceramics products,Chemshun Ceramics also studied out  ZTA ceramic liners ,which can be made into ceramic plain tile with size 150*100*50mm and other shape like ceramic hex tile,cylinder,cube etc.