Mosaic Tiles With Dimples                           
alumina ceramic dimple mosaic tiles advantages : light weight, better abrasion resistant with dimples in surface;easily sticked in net, silk and paper.
---
Product introduction:
Chemshun Alumina Ceramic Mosaic Tiles are used as lining with advantage of wear-resisting, impact resisting, easy operation, etc., is ideal surface wear-resisting material of material transfer equipment in iron & steel works, thermal & power plants, mine, etc. Trades and can extend operating life of equipment effectively. It is widely used as tile mat lining in conveying engineering to protect the belts in mining industry and agriculture,etc.
Ceramic Square Tile Product Salient Property:
1)Excellent wear and abrasion protection property
2)Lower production and maintenance cost
3)Excellent corrosion resistance property
4)Excellent impact resistance property
5)Excellent heat resistance property
6)Easy to handle size and weight
7)Fast and safe installation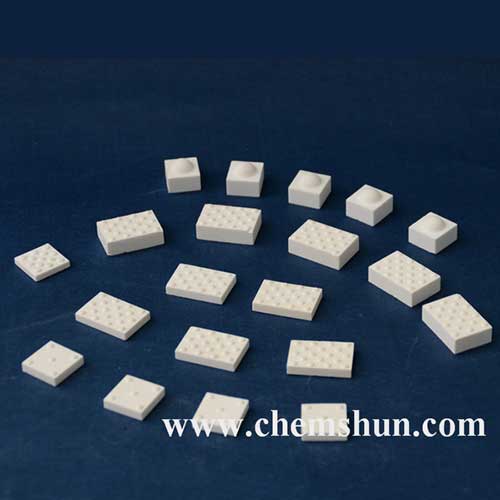 Export:
Our products have been exported to many countries: Australia, Chile, USA, Russia, UK, Indonesia, etc., good quality have be approved by our clients.
Product Technical Data (1:wear resistant ceramic)
Chemshun Ceramics also recommends these other Alumina Lining Pieces:
---