Dove-Tailor Ceramic Liner                                          
Dove-tailor wear ceramic liners is specially designed like the tail of swallow, which is installed by welding with steel sheet .
---
Installation :
At the beginning steel Card slot is welded into the equipment which need abrasin protection, at the same time , it is necessary to pay attention to the gap of steel card slot, which makes the ceramic liner perfectly fit for the gap. then along the steel card slot, install the dove-tailor ceramic liner into the space of two steel card slot. like following pictures: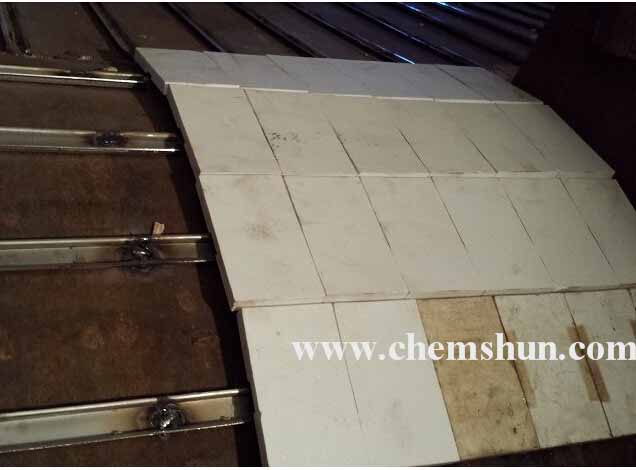 Advantage :
Dove-tailor ceramic liners have much advantage compared with other wear resistant liners :
>  Eazy to install
>  Hard to fall off from equipment because of welding installation.
>  High temperature resistant , up to 900 degree, becuase it is installed not by resein epoxy
>  Specially fit for dynamic operation equipment
>  Easy to maintain and replace when some piece break.
Application :
wear ceramics liner Application Power plants, cement high temperature flue pipes for waste heat power generation,pipelines sintering dust removal equipment in steel plant etc.
Service:
Any requirment about chemshun Wear Ceramic Liner Vulcanized Into Rubber and wear resistant ceramic product Backing, alumina ceramic rubber wear plate and Wear Resistant Rubber Ceramic Panels, please feel free contact us and chemshun we'll afford you the most suitable product and best service. web:www.chemshun.com . Tel:86-799-6790781
Export:
Our products have been exported to many countries: Australia, Chile, USA, Russia, UK, Indonesia, etc., good quality have be approved by our clients.
Product Technical Data (1:wear resistant ceramic)
Chemshun Ceramics also recommends these other Alumina Ceramic Tiles:
---