92%, 95% Alumina Ceramic Tile Liner            
Various standard sizes, Custom engineered design offered, Different shapes for your applications, Alumina,ZTA,SIC mateial available.
---
Alumina ceramic liner tile  has charaters of abrasive & wear resistance,corrosion resistance,high temperature resistance,low weight,easy installation.which can effectively protect industry material handling machines against wear damage.especially applied in mining,port,cement,steel plant,power generation industry etc.
As industry ceramic manufacturer, Chemshun Ceramic Alumina ceramic tile liner include 92% Al2O3,95% Al2O3,Al2O3+ZrO2 compostion series. different shape tiles including plain tile, weldable tile,trapezoidal tile,curved & lock tile, engineered tile with special geometries can meet your different wear solution requirement.
Chemshun Ceramics can offer ideal ceramic alumina liner tile scheme according to customer's different working environment and industrial.custom-made abrasion resistant tile available .
1: Application & Package of ceramic tile liner: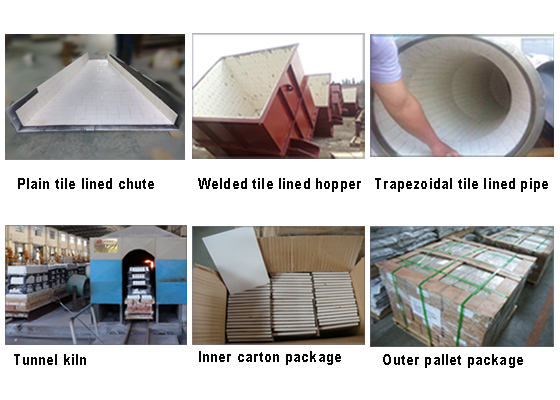 2: Technical data & sizes of ceramic liner tile :
Properties
Unit
CHEMSHUN 92
CHEMSHUN 95
Al2O3
%
92
95
Products Size In mm (L* W * T) or (S * T )
150 * 100 * 6~50
150 * 50 * 6~50
100 * 100 * 6~30
100 * 50 * 6~50
75 * 12 * 6
50 * 20 * 3~15
3: Alumina abrasion resistant tile production process :
Click Here :   Production Process
4: Alumina ceramic wear tile quality control during production  :
Click Here :  Quality Control Process
Product Technical Data  (1: wear resistant ceramic)
Chemshun Ceramics also recommends these other alumina abrasion resistant tile linings:
---